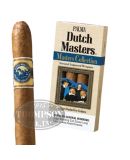 Dutch Masters Cigars are one of the more popular cigar brands on the market. These easy going smokes have been enjoyed by millions of aficionados since 1911 and continue to be a common, popular cigar to this day. We are all familiar with the emblem used for the brand (a depiction of a famous painting by Rembrandt) and many of us have smoked a Dutch Masters or two. If you haven't smoked a Dutch Masters, the following reasons will shed some light on the benefits of this popular brand of cigars:
Consistent, easy going smoke: Dutch Masters Cigars make use of short filler Cuban seed tobacco and a natural wrapper to craft a mild, easy-going, reliable stick. When you buy Dutch Masters, you know what to expect and the reliable nature of these satisfying cigars has helped to build their fan base.
Affordable: These cigars are made by machine and use short filler tobacco blends. Those factors make it possible to sell them for low prices and turn them into a very affordable everyday smoke.
Variety: Dutch Masters Cigars also come in a variety of flavors and this makes them appealing to a wider range of aficionados. Dutch Masters Grape Natural Corona are one of the more popular brands as is the Dutch Masters Palma Natural Corona.
Find great deals on Dutch Masters Cigars and hundreds of other cigar brands at Thompson Cigar today.