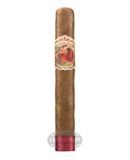 Every aficionado is always on the lookout for the very best in cigars. Those of us who have been searching for premium cigars for many a year have realized that cigars of the highest quality tend to show certain characteristics lacking in other smokes. A few of the things to look for in high quality sticks include such factors as:
Rating: Although we can all give our personal ratings to every cigar we sample, it's worth it to pay attention to the opinions of the best cigar experts in the country. If someone who has tried and tested literally thousands of cigar brands says that a particular cigar merits a rating of 96, then that smoke is going to be one of the best you have ever had. At least that's what many aficionados have said about the 96 rated Flor de Antillas Toro Sun Grown.
Smoking experience: The very best in cigars are going to exhibit an excellent experience from start to finish. There isn't any waiting for the stick to show flavors with the best smokes because they taste wonderful with every draw. The 91 rated Arturo Fuente Hemmingway Short Story is a good example of one such cigar.
Presentation: Although it's a combination of what's inside and outside that counts, the best in quality cigars are also going to look like works of art. They only use beautiful, flawless wrappers and are rolled by expert hands.
Find great deals on the best cigars at Thompson Cigar today.