Cigars can be mild, they can pack a delicious punch, or fall somewhere in between. As all experienced aficionados know, we wouldn't want to light up a robust, strong-bodied smoke in the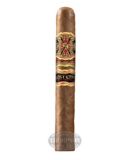 morning because the palette isn't quite ready for that big array of flavors. Instead, we start the day out with mild and smooth cigars before moving on to a medium-bodied smoke in the afternoon, and going for a big and bold cigar to finish off a fine, evening meal. The following are three premium cigars that make a nice end to dinner any day of the week:
Padron Aniversario 1964 Exclusivo Maduro Robusto: This 94 rated masterpiece made it into the top 25 cigars of 2011. This is a fine, medium to full bodied Maduro indeed and a fantastic end to the best of evening meals. Save it for a special dinner or live the good life and enjoy one of these fantastic Maduros every night of the week.
The Davidoff Nicaragua Toro Habano: Davidoff cigars are known for being top-shelf premium sticks and this Nicaraguan puro is no exception. In addition to using select long filler tobaccos, it boasts a 10 year aged Habano wrapper to bring spicy flavors to the palette.
Find these and other premium cigars for great prices at Thompson Cigar today.