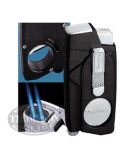 A lot of people who relish the fine flavors of fermented tobacco also love all sorts of gadgets. Whether that curiosity is related to being an aficionado or not, it's uncanny how many of us are engineers, like to tinker with engines, build things, and love to buy gadgets. With that in mind, Thompson Cigar has some great gift ideas for people who like gadgets. Check out the Cigar Gifts for the Gadget Guy page and you will see a fine assortment of cigar-related gadgets and technologies that will put a smile on the face of many an aficionado.
On that page, you will find cool little electronic humidifiers including the wonderful Cigar Oasis Ultra and the excellent La Veil Dch-210 Humidifier. Both of these digital humidifiers are easy, efficient ways to ensure that your cigars are kept safe and sound.
There is also a fine selection of cigar lighters, including such lighting gadgets as the sleek Excalibur. This little gadget is a fine, dual torch lighter that also hosts a razor sharp guillotine cigar cutter. If you or that special aficionado already have more than enough cigar cutters, you could also just buy a fine Lotus Vertigo Dual Torch Lighter.
Browse the cigar gifts for the gadget guy page and find hundreds of excellent deals on cigars at Thompson Cigar today.