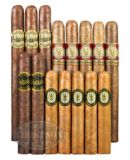 Even if you already know what sort of presents to buy for fellow aficionados, it's still good to have a set of gift ideas. You are always going to find a few ideas you hadn't considered and they might even make fine presents for your own collection of premium cigars. The list is even better when it's compiled by cigar experts and that's why the Thompson staff favorites page is a such a good place to look when searching for all sorts of cigar-related gifts. If the items on that page are favorites of the people who work at Thompson Cigar, you can bet that they are going to represent an excellent bunch of cigars because Thompson has been at the heart of the cigar distribution business for nearly a century.
Several selections are favorites because they combine premium cigars with an excellent low price. The Victor Sinclair Super Selection 15 Cigar Sampler is one such item because for less than $30, this sampler includes 15 quality sticks including Maduros and Connecticuts. Other staff favorites that go for an excellent low price are the Four Aces 12 Cigar Sampler and the delicious Maduro Madness Sampler. You will also find good deals on fine humidors, and small samplers of premium cigars such as the Rocky Patel vs. Romeo and Julieta Super Six.
Find these fine cigar gifts and hundreds of premium smokes for low prices at Thompson Cigar today.