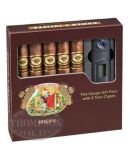 Once Halloween ends, it's time to start thinking about winter holiday gifts. Whether you like shopping for holiday gifts or not, if you have family or friends, it can't be avoided. Fortunately, if you have to go shopping for a fellow aficionado (or feel like buying a nice little gift for yourself), the Thompson Online Cigar Store has lots of excellent options. While you could just buy that lucky person a box of wonderful, quality cigars, items that combine great cigars with something else are very suitable for both veteran aficionados and people who have never tried a cigar.
One such fine gift item is the Romeo and Julieta Habana Reserve Toro Natural Cigars with Tire Gauge. Buy this gift set and the happy recipient will get the chance to enjoy five high quality Romeo and Julieta Toro Naturals. Given the excellent, medium to full bodied cigar experience that comes from drawing on these fine smokes, that would be a fine gift on its own. However, in addition to enjoying those excellent cigars, the recipient also gets a quality tire pressure gauge. This isn't a simple metal gauge either but a sleek and accurate digital tire pressure gauge that's easy to use and tells you exactly how much air is in the tires of your vehicle.
Enjoy this and other fine cigar gift items from Thompson Cigar today.