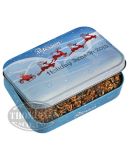 'Tis the season to be jolly and shop for all of our favorite friends and family members. If one of the special people on your list loves quality cigars, not to worry. Even if you know nothing about cigars, you can still find easy cigar gifts for that special cigar smoker in your life if you shop at the Thompson online cigar store. Just check out our cigar gift guide and instead of wondering how you are going to possibly find an appropriate cigar-related gift, you will be treated to more options that you can imagine.
Every cigar aficionado loves a good cigar sampler. These are assortments of cigars that make it easy for the lucky recipient to try out a variety of cigar brands, cigars that use different wrappers, and premium cigars he or she may have always wanted to sample. The Triple Threat Ten Cigar Sampler is just one of many fine cigar sampler gifts and you can make it even better with a beautiful Cherrywood Humidor. Humidors are essential for proper storage of cigars and you can bet that every cigar smoker will be very pleased to get one or more as a gift. For the pipe smoker in your life, you can also give a fine tin of Peterson 2013 Holiday Pipe Tobacco.
Shop our cigar gift guide page to find the best cigar gifts for all of your aficionado friends.