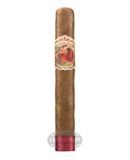 We have all seen the ratings that are shown for certain cigars. While many cigar brands are advertised or shown without any sort of cigar ratings, several other quality smokes are depicted with numbers that range from "90" to "96" or even higher for a few, extremely rare smokes. It's easy to conclude that the cigars with the highest ratings are supposed to be better than those that receive low ratings but what exactly does that mean? How much better are 90 plus rated cigars compared to other sticks? While doing your own taste tests and comparisons are the best means of discovering those differences, the following list of high-rated cigars indicates why those smokes are far better than many other brands:
Flor de las Antillas Toro Sun Grown: This fantastic smoke is often mentioned when talking about cigar ratings because its amazing 96 rating helped it become the 2012 cigar of the year (according to Cigar Aficionado). It earns that rating with a wonderful array of flavors, a flawless wrapper, and smooth smoking experience from start to finish.
Padron 1964 Aniversario Exclusivo Maduro Robusto: This beautiful Maduro has a rating of 94 and shows it with complex, smooth flavors, and a hint of cocoa.
Ashton Heritage Puro Sol Belicoso #2: This very fine smoke also earned a rating of 94 and displays its premium nature with a rich Cameroon wrapper and a complex array of flavors.
You don't hear the same things said about sticks with ratings lower than 90 because they don't even come close to showing the same sort of premium characteristics as the brands mentioned above. Find the best deals on 90 plus rated cigars at Thompson Cigar today.