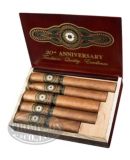 Would you like to put a smile on the face of a fellow aficionado? If so, then give that special person a fine sampler that showcases some of the best in Nicaraguan cigars. That exquisite selection of smokes is the Perdomo 20th Anniversary Sun Grown Sampler and once you get a look at the fine cigars inside, you will probably also want to buy one of these quality cigar gifts for yourself. The five cigars in this sampler were made to mark 20 years of creating quality smokes and you will realize that Perdomo is serious about celebrating the occasion as soon as you take a draw on any of the five sticks inside.
The premium cigars in this sampler are only crafted with very select tobacco grown in the rich volcanic soils of Nicaragua. The combination of excellent growing conditions and expertise of the Perdomo family results in cigars that showcase a wonderful array of flavors and a present truly fine cigar smoking experience. Each of the fine sticks in this gift sampler are Nicaraguan puros that come wrapped in tantalizing sun grown leaf for an extra bit of flavor. However, they don't use just any old sun grown wrapper but leaf that has been carefully aged for more than a year in bourbon barrels. That aging process puts the final crowning touch on these high quality cigars and helps turn them into a fantastic gift for friends and yourself.
Buy the Perdomo 20th Anniversary Sun Grown Sampler and other excellent cigar gifts at Thompson Cigar today.