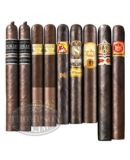 A smooth Connecticut is arguably the best way to finish off a good breakfast but evenings should be reserved for strong Maduro cigars. Veteran aficionados of course know this but people new to the game might not realize that Maduros are best enjoyed at the end of the day. Maduros bring a wonderful array of tobacco flavors to the palette, especially when the cigars in question are premium brands. The easiest way of enjoying premium Maduros without breaking the cigar budget just might come from buying the Premium Nine Maduro Sampler.
True to its name, this fine cigar sampler treats the aficionado to nine absolutely mouth watering high quality Maduros. Give it as a gift to someone who relishes the bold flavors of a fine Maduro or get a couple of these fine cigar assortments for yourself. When you try any of the quality smokes in this sampler, you will immediately know why this is a premium collection of stellar Maduros. Inside, you have two of the wonderful Rocky Patel Olde World Reserve, a CAO Gold Maduro, an Oliva Gold, Gloria Cubana, a fine Sonador, a pair of delicious PDR 1878, and an excellent Arturo Fuente Gran Reserva. Considering the quality of the Maduros that come with this sampler, the less than $30 price tag also makes it an excellent cigar deal.
Find the Premium Nine Maduro Sampler and other cigar deals at Thompson Cigar today.