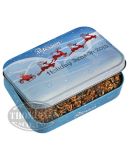 The winter holiday season is here and as usual, time flies as we put off buying gifts for family and friends. It's not that we don't want to give them something special for the holidays, it's just that we might not know where to shop, may not exactly enjoy shopping for the holidays, and just might not even know what to buy. If you happen to know someone who enjoys a good smoke from a pipe now and then, the following gift is going to put a smile on his or her face.
While that special person will be happy with a gift of quality pipe tobacco like a bag of Cherokee Mellow Blend, he or she will experience even more holiday joy if you add on a tin of Peterson Pipe Holiday Tobacco. This fine collection of tobacco includes blends that have been carefully created by pipe tobacco experts to match the excitement of the holiday season. This year, the Peterson Holiday Tobacco blend includes such wonderful flavors as cinnamon and plum with quality Black Cavendish and Burley tobaccos. Not to mention, those fine pipe tobaccos are also presented in a 2013 Holiday season tin. Make the pipe tobacco aficionado even happier by pairing this limited edition gift with a quality pipe.
Find this, good deals on cigars, and hundreds of other gifts for pipe and cigar enthusiasts at Thompson Cigar today.