Cigars are treasures. Friends, family, and co-workers who don't happen to enjoy the wonderful flavors of fermented tobacco probably don't understand why we strive to obtain certain premium cigars, enjoy the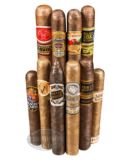 creamy flavors of Connecticut wrapped sticks with breakfast, and cherish a fine Maduro at the end of a long day. They wouldn't understand why we smoke certain brands as everyday cigars and keep rare premium smokes on reserve for very special occasions. However, fellow aficionados know exactly why we try to enjoy cigars every day of the week and might even keep a secret stash of smokes. It's not that other people are going to come in to the house and smoke them, we just put those finest of cigars aside to mark their treasured, high quality nature.
One of the cigar samplers in our collection that pays homage to the cigars that we reserve for rare occasions is the appropriately named "Secret Stash 10 Sampler". This is a wonderful assortment of ten cigars destined to be relished by rookie and veteran aficionados alike. This sampler features two fine Rocky Patel cigars, an Alec Bradley, and a Magna Carta among other excellent smokes. Whether you end up saving them for a special occasion or try a different one every day of the week, these sticks will remind you why we treasure premium grade cigars.
Find the Secret Stash 10 Sampler and other premium cigar assortments at Thompson Cigar today.