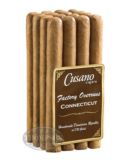 We all want to spend less on cigars but none of us want to make any sacrifices on quality. That' the conundrum of being an aficionado who has a monthly cigar budget but there are ways to make that key combination happen. Shop for cigars at the Thompson Online Cigar Store (and you are going to find plenty of deals and sales) but if you really want premium cigars for low prices, check out the page with Factory Overruns. This is where you will find page after page of quality cigars for much lower prices than sticks of the same brand and series that get a cigar band and make it into a cigar box.
The last step of the cigar manufacturing process involves one final bit of quality control. If a cigar has certain wrapper flaws or just doesn't pass inspection for some other small reason, it is excluded from the cigar box even though it's made from the same high quality tobacco blends and has the same delicious wrapper. Those sticks are the factory overruns and much to the fortune of aficionados on a budget, they are sold as cigar bundles for a fraction of what they would cost if they had made it into a cigar box. This is an excellent way to buy Rocky Patel Cigars, Gurkha Cigars, wonderful Cusano Cigars, and other premium brands for low prices.
Save on top shelf cigars and much more at Thompson Cigar today.