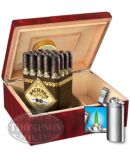 Gifts for the aficionado come in many shapes, sizes, and prices. Some samplers of premium cigars cost two or three times as much as samplers of lesser known brands and the same can be said of cigar lighters, and other cigar accessories. Although higher quality items tend to cost more, shop at the right place and you can still find great deals on quality cigars even though they cost less. One such deal also makes an excellent gift, especially for people just getting started with cigars.
That fine cigar deal and gift is the Classic Cherrywood VI Combo. Since this nice combo was originally priced at $107 and presently sells for less than $40, it's one of the better cigar combo deals at the Thompson online cigar store, especially when you see what you get for that low price! The lucky buyer of this combo gets a beautiful Cherrywood humidor that uses a quality humidification system and has Spanish Cedar linings and dividers. No humidor should ever be empty and that's why this combo also comes with 20 Hacienda Rio Churchill Connecticut cigars. A Noah Edge cigar lighter is also included so you can sample one of those Churchills as soon as this combo is delivered to your door.
Find the best deals on cigar gifts and hundreds of premium cigars at Thompson Cigar today.