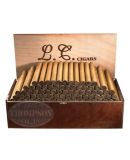 At Thompson Cigar, we have always made efforts to offer quality cigars for great, low prices. The working relationship that we have with many expert cigar makers, and the fact that we deal with thousands of cigars, makes it possible for us to offer so many deals on samplers, cigar bundles, and even boutique cigars. However, if you thought you found some great cigar deals at the Thompson site during the past ten years, get ready for even better savings on quality smokes because for a limited time, we are able to offer more savings on more cigars than ever before.
For example, how does 100 premium Churchill cigars for less than $100 sound? Yes, we are offering 100 La Caya II Habano Churchills for just $99. Compare that to an original price of $250 and the fact that these are full sized, hand-rolled Dominican Churchills and you know that this is a good cigar deal! This is a fine buy for weddings, New Year parties, and other events that call for lots of fine cigars.
Or, how about 30 Cohiba cigarillos for less than $55? Tins of Cohiba Pequeno Cameroon Cigarillos are on sale and these fine little smokes show the same fantastic flavors as their full sized brethren. Pair those great Cohiba cigarillos with a box of Arturo Fuente Curly Head Deluxe Maduro Lonsdale Cigars for even more savings on top shelf sticks.
Find the best deals on premium cigars at Thompson Cigar today.