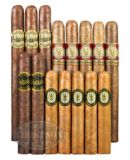 Cigar samplers are always fun to buy. Even though you know which sticks are going to arrive in the sampler, there's always a few that you have never tried. It's fun to compare those with our favorite everyday sticks and well known, premium cigars. It's also a good feeling to know that the humidor is going to receive a nice variety of sticks. Some are different sizes, come from different cigar makers, and showcase different types of wrappers. However, another nice thing about samplers is related to their price. Buy a sampler and you typically end up spending a lot less on premium smokes. It gives you a chance to try some top shelf sticks without breaking the cigar budget while other samplers are just fine cigar deals in every sense.
To find the best deals on samplers, visit the Value Cigar Samplers page. This is where you will find several excellent assortments of cigars for very good prices. For example, recently, the World Class 20 Sampler has been on sale for less than $30. That's four brands of 20 fine cigars for less than half of the regular price. The same can be said of the Victor Sinclair Super Selection 15 Cigar Sampler. Buy that assortment and pay less than a third of the regular price for premium Victor Sinclair smokes.
Find the best deals on cigar samplers and hundreds of other great smokes at Thompson Cigar today.