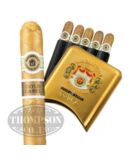 Fishing season is winding down in some areas and heating up in others. However, if you also love to go hunting, seasons for deer, bear, and other game will be starting pretty soon. Both endeavors require the presence of quality cigars so whether you put away the fishing gear until spring or have plans to head to a hunting camp, be prepared for every circumstance by stocking up on Macanudo Gold Label Connecticut Cigarillos. These Macanudo cigarillos are so darn good that more than one cigar review claims that they outdo high quality full-sized smokes. Given the Macanudo name, we can really expect nothing less and this little cigar shows it with a wonderful sweet and smooth cigar smoking experience.
Macanudo Gold Label Cigarillos are such high quality little cigars because they combine select Macanudo tobaccos with a star wrapper made from the first and second primings of a choice Connecticut shade plant. The leaf that comes from this crop is incredibly smooth, very thin, and demonstrates its beauty in the form of a wonderfully sweet, high quality mild smoke. Bring these choice cigars on fishing trips and if you enjoy them while casting for lunkers, you might not care what you catch. You could also save them to celebrate when you reel in a trophy fish or after coming back from a day of hunting trophy bucks. Either way, these fantastic cigarillos will help you live the good life with every draw.
Enjoy great prices on Macanudo Gold Label Cigarillos and hundreds of other premium cigars at Thompson Cigar today.