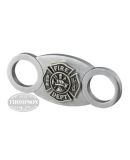 Giving and receiving gifts is a big part of the winter holiday season. However, there are some people who deserve gifts at every time of the year. Firefighters are one of those special people. Time and time again, they risk their lives to save the lives of others and do their best to save homes from terrible, tragic fires. Although they just say that it's part of the job and don't usually ask for any recognition, it's always nice to remember the active and volunteer firefighters who work in our communities. One of the easiest ways to thank those heroes is with quality cigars and other cigar gifts.
Some firefighters are aficionados while others have yet to experience the fine flavors of quality tobacco but all of them will appreciate receiving cigar samplers like the Ultimate 90 Plus. Each of the cigars in this sampler is a premium, high-rated smoke that will be very much enjoyed by any aficionado. The quality of the top shelf sticks in the Ultimate 90 Plus Sampler also befits the type of cigars our community heroes deserve. In addition to bringing one of these samplers to the local firehouse, don't forget to give several of the firefighter cigar cutter to your favorite firefighters.
Find the best deals on hundreds of quality cigars and excellent cigar gifts at Thompson Cigar today.