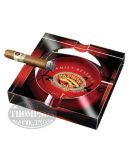 Enjoying cigars is more than buying the sticks we love to smoke. Although picking out and buying cigars is of course an essential part of being an aficionado, we also need various cigar accessories. The humidor is the accessory you probably need to buy first because you can't store your cigars without one. The cigar lighter probably comes second and the cutter is a close third. However, there's one other accessory that often gets overlooked when buying cigars and supplies for enjoying them. That item is the ashtray and you know you need a new one when the following happens:
The old ashtray breaks or gets too dirty to clean: Ok, so a dirty ashtray can still be used but let's face it, it looks terrible and doesn't work as well for holding the ashes. Buy something along the lines of the Padron Family Crystal Reserve ashtray to add a touch of class to your smoking room.
You just don't have one: Even if you have an ashtray in the den at home, you might also need one in the office or one to bring with you during travel. The Thompson Jumbo is a fine, basic cigar ashtray to use in the office as is the Stinky Cigar Original. Both also work well as ashtrays to bring on trips.
Find a fine selection of ashtrays, other accessories, and premium cigars at Thompson Cigar today.