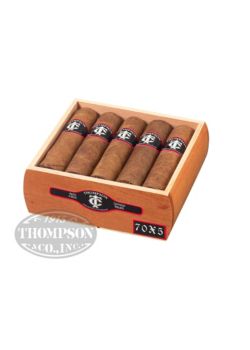 lgcarp from Sacramento, CA reviewed the FAT BOY II NATURAL GORDO
Draws great. Nice smoke after you've exhausted your lungs with full-bodied cigar.
Bottomline: Yes, I would recommend this to a friend
Rating:
Pros: Easy To Light, Good Draw, Well Constructed
Best Uses: Everyday, Special Occasions
Describe Yourself: Cigar Aficionado
At a whopping 70-ring gauge, this line of Goliath cigars is the largest size we have ever offered. There is a special mystique associated with cigars of this size because the typical long filler cigar is combination of three tobacco leaves, there is only a limited amount of blending that can be done. However, there's a wondrous magic that occurs when the tobacco roller is able to add two extra leaves thereby achieving a wider variety of flavors. Of course, this can only be attempted in the extra large ring gauge cigars, and that's what gives them a special uniqueness, characteristics that simple cannot be found in smaller sized cigars.
This is a cigar of most generous proportions, one that is made to be puffed slowly, each draw playing on the palate like a fine wine or liqueur. So if you're in the market for a cigar that is meant to be slowly savored providing the contemplative relaxation and enjoyment you've earned after a long day, a Big Guy cigar is definitely the smoke for you. Take your time and leisurely unwind with the pleasingly plump, Reubenesque delights of our Big Guys. This is the confident self-assured, cigar with all the subtlety of intricate flavor nuances that you can look forward to coming home to night after night, a cigar you'll never tire of.