C and C Gordo Cigars are one of the more recent additions to the Thompson Online Cigar Store. However, despite being one of the newer cigars on the block, these smokes are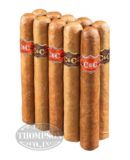 attracting quite the following. In fact, some people have been buying a few samplers at a time because these sticks make for fantastic everyday smokes. The thing about these cigars is that they fit the bill as an everyday stick by merit of their low price (10 sticks for less than $30) while also being a premium 6 x 60 cigar. Yes, the Corojo has a 90 rating and both sticks in this sampler are good enough to merit a special place in any humidor.
The recipe for these quality smokes is simple yet produces excellent results. As with many other quality cigars, these fine sticks are rolled by hand and use choice Dominican tobacco to generate a satisfying, medium-bodied quality smoke. However, each cigar brand also makes use of a particular blend of tobacco and the fermented leaf chosen for C and C Gordos is a definite winner because they will probably be one of the best everyday smokes you have ever tried. Given the bargain prices for these fine sticks, who knows how long supplies will last so order a few C and C Gordo Samplers today.
Find great deals on these and hundreds of other premium cigars at Thompson Cigar today.