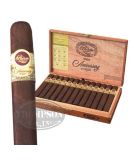 You got the wedding invitation in the mail but the humidor is kind of low on cigars. Although the bride has way more to worry about, now you are posed with your own dilemma. It's a wedding and you need to bring cigars to the event but which ones do you buy? Are they are also going to work for other events? In general, the same cigars you buy for a wedding are also going to taste just fine at any other special event but keep in mind that there are two main types of cigars for a wedding. These are:
Cigars for yourself and the wedding party: These are going to be special premium cigars that you save for the most special of occasions. While you could share them with other guests, the truth of the matter is that the fine flavors of these choice sticks are best reserved for the wedding party and yourself. You have saved them for just such an occasion and this is when you should enjoy super premium cigars like a Padron 1964 Aniversario Exclusivo or a fine Cohiba Cameroon Lonsdale.
Cigars for other guests: Although you might save the premium sticks for yourself and the wedding party, that doesn't mean that other guests should be bereft of good cigars. A couple bundles of Don Oswaldo Sumatra Churchills are a good bet because these are good mild cigars for a great low price.
Find great cigar deals for weddings and all of your cigar needs at Thompson Cigar today.