Every humidor needs a good supply of quality cigars. Don't just fill that cigar storage device with everyday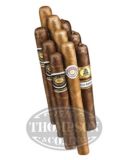 smokes. Make sure that it also always has a few premium cigars to have the right sticks for special occasions and excellent smokes to share with good friends. It's also nice to compare quality sticks and give them your own personal rating. Samplers of 90 rated sticks are an easy means of comparing different types of quality cigars and one of those fine cigar assortments is the Triple Threat 10 Cigar Sampler. Unlike other samplers, this one features just three brands of cigars but that gives you more opportunities to relish the flavors and subtle differences shown by those excellent smokes.
This excellent little assortment of cigars features 3 Romeo y Julieta 1875 Anniversario Coronas, 4 Montecristo White #3s, and 3 Trinidad Club Selection Rothchildes. Each of these fine cigars offers a premium smoking experience and uses select, long filler Dominican tobaccos. Compare the peppery hints of flavor and Ecuadorian Cubano wrapper shown by the fine Trinidad Club Selection Rothschilde with the wonderful mild and creamy experience generated by the Montecristo White. After sampling the fine flavors of those two top shelf smokes, compare them with the high rated flavors that comes from the premium tobaccos and Ecuadorian Sumatra wrapper in the Romeo y Julieta 1875 Anniversario Coronas.